Thomas Alexander McMurray (Private No. 105151) - Royal Army Service Corps - 51st (Highland) Division
Tom was born in Scotland on March 4th 1915. He had two older half brothers and three
sisters. His early schooling years were in Glasgow, until, when he was 11½, the family moved south. At first, they all lived with the grandparents in Boveney Court Cottages. These houses have long since been demolished and undoubtedly, as was the custom in the 1920s and 30s, the old bricks were used in the building or extending of Dorney's old style properties. The Boveney Court Cottages in question, are believed to have been beyond Old Place in Boveney. Accommodating six children, their parents and grandparents, was not a very satisfactory long term arrangement in the small cottage, so in a short while the McMurrays moved to 5, Castle view Terrace in Victoria Road, Eton Wick.
Tom registered at Eton Porny School on October 18th 1926 where he completed his elementary education. On March 27th 1929 he left school, at the age of 14 years. When he got older he found employment working as a steward at the rather exclusive Moor Park Golf Club in Rickmansworth. The work was much to his liking, but it did mean living away from his family home and this, together with his early years spent in Scotland, all contributed to his being less well known in the community. Tom was an enthusiast of both classical and jazz music and had in fact taken classical music lessons.
His father was killed in a cycle accident in the Autumn of 1933, while cycling home from his work on the Slough Trading Estate. His prized possession, a violin, was given to Tom, now an 18 year old. The violin had previously been given to his father, following a tragic fatal accident to its first owner. When, some years later, Tom's life was abruptly ended, his mother destroyed the violin and declared that three owners, all dying violently, was more than enough.
Tom McMurray on holiday
at Barrow in Furness with relatives
When war was declared in 1939 Tom quickly volunteered his services in the R.A.S.C. serving with the N.A.A.F.I. (Navy, Army and Air Force Institute). In due course he was posted to France. In the spring of 1940 the German Army invaded the Benelux countries and thrust the allied forces back to the sea. Tom was not among the 338,000 troops successfully evacuated from Dunkirk during the first week of June, which had led his family to conclude he was either killed or drowned
while attempting to leave the beaches. For 2
½
years Tom's mother understood he had been listed as missing, and then came notification he was presumed killed. In fact, for two weeks after Dunkirk, British and allied forces were still resisting the German advance, many miles so of the earlier evacuation.
In mid June 1940, France surrendered and British, Polish and other troops withdrew to the ports of Brest, St Malo and St. Nazaire in a desperate attempt to board any available vessel able to sail to England. Service vehicles were dumped into the sea and vast N.A.A.F.I. supplies were shipped or dumped. The Commonwealth War Grave Commission reported:
McMurray, Thomas Alexander, Pte; 105151, Royal Army Service Corps, lost in S.S. Lancastria (Liverpool) Died 17th June 1940 Age 25 (buried) La Bernerie en Retz Communal Cemetery; Department of Loire, Atlantique France. Grave No. 11 in Row A.
T
he Bernerie en Retz Cemetery
Many thousands of troops were successfully evacuated from these ports between June 16th and 18th. On the 17th the luxury liner Lancastria, just returned from evacuating men from Norway, was sent to St. Nazaire. It lay outside the harbour and embarked at least 5000 troops, some estimates quote as many as 7,000 troops, when enemy aircraft successfully bombed the Lancastria and she sank within an hour. Most men jumped into the sea but many perished in the choking oil, or were strafed by German aircraft. Approximately 3,000 lost their lives. Amidst so much gloom during June 1940, Prime Minister Churchill asked for this shock disaster to be kept temporarily from the public. Many sailors spoke of a navy superstition of misfortune to a ship which changes its name. The S.S. Lancastria had done just that.
The Bernerie en Retz Cemetery is a communal (civil) cemetery, with an extensive plot for military use. It is situated on north east side of Bourgneuf Bay, eight kilometres south east of Pornic and about 30 miles west south west of Nantes; 400 yards from the main road and south west of the local church. Most of the 121 soldiers and six airmen buried there were casualties of Lancastria.
One of Tom's sisters is still living in Eton Wick 60 years later. He was not married. Locally he is commemorated on the Village Memorial in the Churchyard and on the Memorial tablet on the Village Hall. Ex-servicemen generally remember the N.A.A.F.I. for its mugs of tea and cakes, but the sober wartime statistics record the deaths of over 550 of its personnel during W.W.II.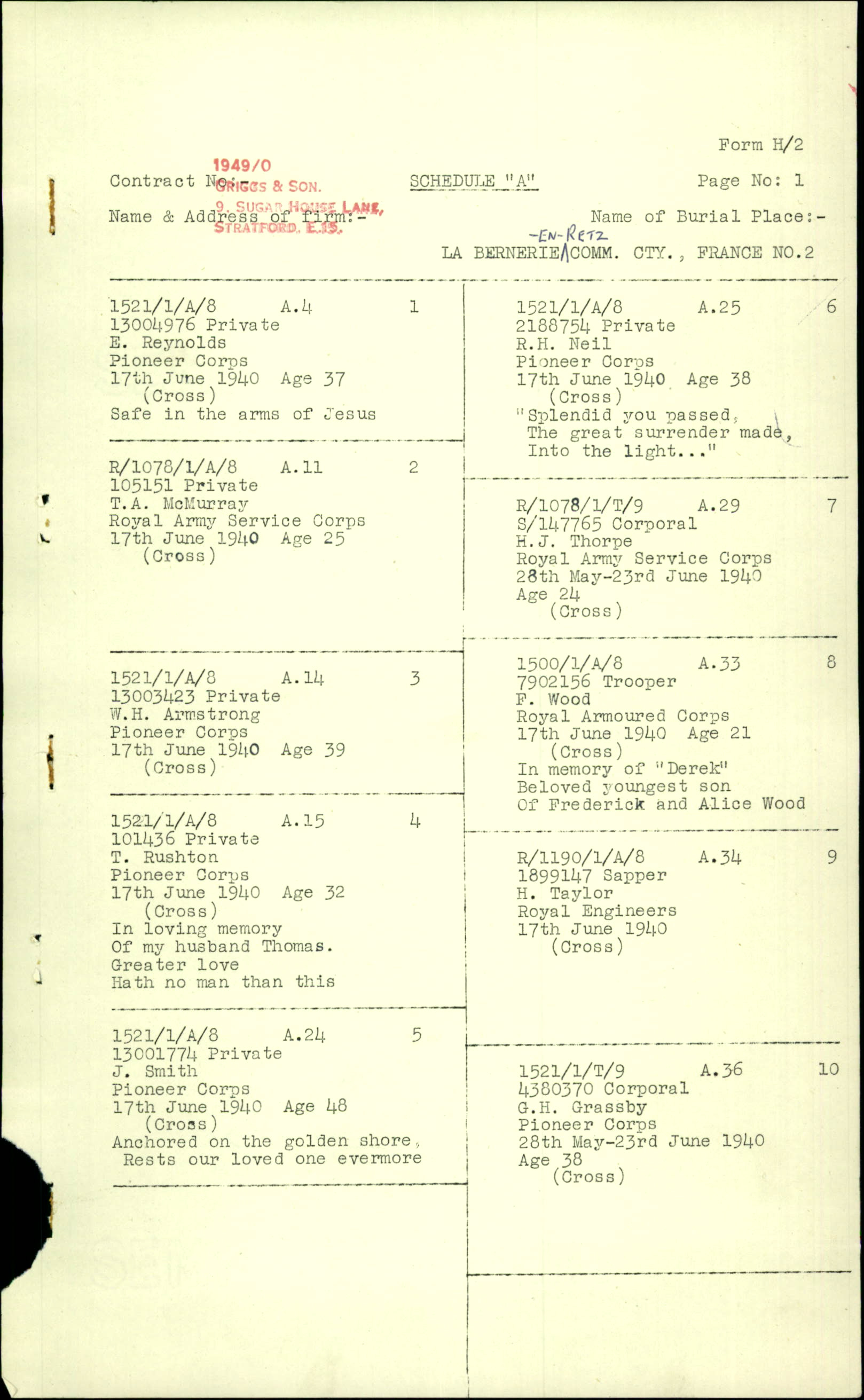 Grave Registration and Headstone records
courtesy of the Commonwealth War Graves Commission
and published here with grateful thanks to the author Frank Bond.
Private McMurray's death was reported to the War Office Casualty Section on 12th December 1942: National Archive reference WO 417/55.